As I've mentioned in a few recent posts, Cassie and I bought a house at the start of April. Since then, a few of our friends have started the house-buying process and reached out to us for tips and recommendations as they start their own search. Since we also knew very little at the start of our process, I thought it would be a good idea to share some of what we learned.
1. Know your market
If you're planning on buying a house in the next year, you'll want to start regularly checking house listings on sites like Zillow and Realtor.
It's important to begin looking at homes for sale in the area that you are hoping to buy in before you're necessarily ready to put in an offer. Doing this lets you get to know the market and gives you a good idea about what is a fair price for the size and neighborhoods you're looking at.
You may have your sights set on a particular neighborhood but quickly realize that the houses there are out of your price range. You may find a neighborhood you haven't thought of before but has everything you're looking for.
Most importantly, knowing your market ahead of time helps you identify a good deal when you see one. In competitive markets, homes that are priced well may have multiple offers on them within the first day (yes, that's as stressful as it sounds). Knowing the market gives you a better chance of being able to jump on your perfect home at the perfect price before someone else does.
The house-buying process can feel strange. You see a few photos on the internet, decide that this house could be The One, schedule a viewing and walk around it for 15 or 20 minutes and after that short little tour, you're being asked to make a decision of whether or not to spend hundreds of thousands of dollars.
Knowing your market can help you feel more confident in your decision when you get to that point.
The first house that we put an offer in on was 650 square feet and priced at $129,000. It was also being sold in a very strange (to us) way: It was listed on the market and the seller wouldn't accept offers until the seventh day. At that point, everyone had to submit their offers all at once and the seller picked their favorite (which was not us).
The second house that we put an offer in on was 1,200 square feet and priced at $108,000. It was also basically next door to one of our good friends and in our perfect neighborhood – and a big fixer-upper. This one was another "submit your highest and best offer by [DATE]" listings, and even though we offered well above asking, it went to a cash buyer.
The house we ended up buying was one that we saw online and scheduled a viewing for after work that day. We put in an offer later that same night. We only felt comfortable moving this fast because we knew the house was a really good deal. Even though we moved quickly — we visited the house when it had been on the market for just a day — there was already one offer on it. The seller originally accepted that offer, but then the buyer backed out. That's how we got our home.
2. Go with a conventional loan when possible
When getting a home loan, most folks are deciding between a conventional or FHA loan.
Conventional loans require a higher credit score (at least 620), a lower debt-to-income ratio, and a higher minimum down payment (most lenders require a minimum of 5%). Comparatively, you can receive an FHA loan with 3.5% down payment if your credit score is above 580. You'll need at least 10% down if your credit score is below that.
Both types of loans get the job done, but there's one reason why you'd likely prefer a conventional loan: something called Primary Mortgage Insurance (PMI).
PMI is typically 0.5 – 1% of the loan amount on an annual basis, paid monthly. This means if your mortgage was for $120,000, you would be paying an additional $1,200 each year (or $100 a month).
With an FHA loan, you'll be required to pay PMI for the life of the loan if you put down less than 10%, unless you refinance to a conventional mortgage at some point. (If you put down 10% or more, PMI on FHA loans will go away after 11 years).
With a conventional loan, you are only required to pay PMI if your down payment is less than 20%. If you put less than 20% down, your PMI will automatically go away once your outstanding balance drops to 78% of the original value of your home.
By not having to pay PMI for the entire life of your loan, you can save yourself thousands of dollars over the years.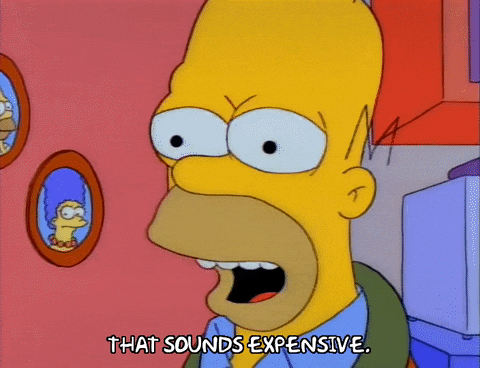 Unfortunately, we ended up having to get an FHA loan because the down payment minimums are different for a conventional loan on a duplex (15%). Because of this, we plan on aggressively paying off the first chunk of the loan and refinancing to a conventional loan once we hit 20% equity in the home. Luckily this shouldn't take too long since we came in with a good amount of equity after the first appraisal came back.
3. Shop your mortgage
When it's time to actually get your mortgage for your home you want to make sure to shop around and not just use the broker your realtor told you about. We went through three different mortgage brokers during our house-buying process: One who gave us our very first pre-approval letter, the second who gave us a pre-approval letter for the house we bought, and the one we actually used to get our loan.
By getting a few loan quotes to compare you could save yourself thousands and thousands of dollars over the life of your mortgage.
While the difference between 3 and 3.5% interest might seem insignificant (especially compared to that 24% interest on your credit card) that half of a percent when applied to $200,000 is a big deal! That half of a percent is $1,000 added to your payments just in the first year.
By shopping around for our mortgage, we were able to get an interest rate that was a whole 1% lower than the one originally quoted to us from the company that our realtor recommended.
The whole process of getting a few quotes took probably 2 hours total and saved us over $2,500 in the first year's payments alone.
4. Shop your inspector
Once you're under contract on a house, you'll schedule a home inspection to be done in the first week or two of being under contract. The home inspector will come in and, well, inspect the home. This is your chance to learn more about the place you spent 20 minutes in and decided to drop a significant amount of money on.
The job of the home inspector is to let you know of any problems in the house (the small and the big), and upcoming repairs you could expect to have to pay for.
If the house turns out to be a potential money pit, this is your chance to back out. If there are one or two medium-sized potential problems, now's your chance to go back and negotiate the selling price, request that repairs be made, or request concessions to be made at closing. If your house is good to go, lucky you and congratulations!
The inspection is a super important part of the home-buying process, so it's important to also find a home inspector who will be thorough and honest.
Before you select your home inspector, go online, read some reviews, and compare costs. You don't want to necessarily go with the lowest cost inspector if they aren't going to do a thorough job. Reading reviews will help you select a home inspector you feel confident in. You can also call and ask how long an inspection will take for the size and type of property that you're purchasing.
The inspection will cost a few hundred dollars and should take a few hours. We did a separate pest inspection, but some home inspection companies will do both inspections at the same time.
5. Use an independent insurance broker/agent
The other thing you'll need to have in place before you close on your house is your home insurance. I would recommend using an independent insurance broker or agent for this piece, rather than going directly to the website for whatever home insurance company you can think of at the moment.
You may think that directly shopping for your insurance would save you money by cutting out the middle man, but that may not be the case.
When you work with an independent agent, they are able to gather quotes from many companies for you to compare, and the companies providing the quotes know that. Your insurance agent has specialized knowledge about the industry but isn't tied to one specific company. This allows them to be able to walk you through the comparisons in price and how that relates to coverage.
This was especially helpful in our case since we were buying a duplex and there are different types of insurance for multifamily homes — it wasn't until one of our final quotes that someone finally explained what the difference between a DP3 and HO3 policy is. (We got an HO3 policy because we live in one side of the property).
6. When in doubt, ask!
My final piece of advice is that if you have a question or are in doubt, ask!
Buying a house is an exciting time and a huge deal; it's probably the most money you've ever spent on anything ever! It's totally normal to feel stressed and to have questions or feel unsure during parts of the process, especially if it's your first time. Try not to let that uncertainty fill you with anxiety and instead, find the answers you're looking for!
Ask friends who've been through the process, ask your realtor, and use Google to your heart's content! Take some time before you start (and throughout) to educate yourself on the process and the various steps. It will help you feel more confident and let you spend more time feeling excited rather than anxious.
Whether you're looking into starting the house buying process in the near future, or are dreaming of that perfect home a few years down the line, I hope you found some of this information helpful. If you have any specific questions about our house buying process, feel free to submit them at the link in the menu!